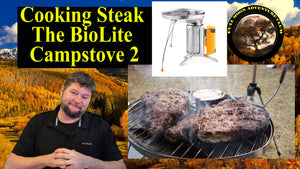 Cooking A Steak With The BioLite Camp Stove 2 - Time And Wood Used
Cooking a Steak with the BioLite Campstove 2 - Time and Wood Used
It doesn't take much time or wood to cook a steak on the BioLite Campstove 2, and as an added bonus I charged a device at the same time. I love the idea of using the energy required to cook a steak to charge my smartphone.
Cooking Your Steaks
I started the fire and brought the BioLite Campstove 2 to a consistent temperature before I added the grill accessory, which feels very sturdy. I added the steaks and found the heat to be fairly even across the grill surface. If you find they are cooking unevenly, feel free to rotate the steaks around the grill.
There is some smoke from the steak juices dripping into the BioLite, but the juices are immediately burned off so it doesn't leave a puddle of grease. The smoke also gave the steaks a nice, smoky flavor.
How Long Did it Take to Cook Steaks Using the BioLite Campstove 2?
I pulled my steaks off at around 15 minutes. They were overcooked, but still delicious! I had so much fun playing with the BioLite that I wound up with some very well done meat, but enjoyed the process.
How Much Wood Did it Use?
It took about fourteen small (bic lighter size) pieces of hardwood. It should be easy to find that much biomass around your campsite. You can also be charging your phone this whole time or use the BioLite FlexLight to keep an eye on your grill. You can also adjust the fan to raise or lower your cooking temperature.
How to Clean the BioLite Campstove 2 and Grill
All the drippings go into the wood and fire and burn up, so that minimizes the mess inside the BioLite. Just wipe off the grill, or snap it into it's plastic cover and clean it later if you want to.
How to Get 10% Off the BioLite Campstove 2
If you're interested CLICK THIS LINK to pick up this package for 10% Off. I bought this with my own money because I thought it was cool, and I'm hoping to save you ten percent so you can have fun with it too. Thanks for reading and as always, Happy Camping!
---