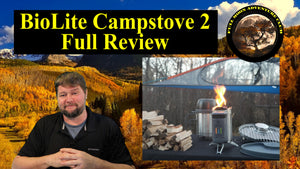 BioLite Campstove 2 Full Review - Charge Phones With Fire!
BioLite Camp Stove 2 Full Review
The BioLite Campstove 2 is a wood-powered stove that also charges electronic devices. Find out all you need to know about it and its accessories, like the grill accessory, the kettle, and some other fun stuff. We'll also dive into specs, opinions, and how to use it.
Unboxing
Inside the box, we have a BioLite starter kit with an LED light and some firestarter briquettes. You also have a kettle; inside the kettle is: a little cup, a BioLite inside of a stuff pack with the actual generator, and a fire chamber down below. Below that is the campstove grill. All the parts come out so you can clean them individually.
What is the BioLite Campstove 2?
The BioLite Campstove 2 is a thermoelectric generator that uses the Seebeck effect to produce heat energy. Using the Seebeck effect, heat is generated within the fire chamber then transferred down a conductor where it hits a heat sink, which converts the differential heat and cold into energy it uses to charge your devices. Cool!
How Does the BioLite Campstove 2 Work?
The heat this device generates with a fire going inside (it will auto kick on when it detects heat) has enough power to run a fan with variable speeds ranging from 25-100 percent, and has enough energy to run the fan which swirls the air to create a smokeless fire.
Also it has enough energy to charge the 2600 milliamp internal battery inside the BioLite so you can use it to charge devices later when you're done with the fire (a great upgrade from the BioLite 1) and you can also use it to charge your smart device (cellphone, GPS, or any 5-volt device) at the same time.
It has three displays on front, on the left you have the fire temperature (keep it high) in the middle is the fan speed which has LEDs that show a charge up to 100 percent. And on the right side is a display showing the internal battery charge for the 2600 milliamp battery inside.
You can charge this at home using a micro usb so you have a full charge when you get to your destination.
Can I Use the BioLite Campstove 2 for Backpacking?
The weight of this is 2.5 lbs, 3.5 lbs with the kettle. If I were hiking the Appalachian Trail this might be cumbersome. I would be using this primarily for car camping or on a day hike for six to eight hours when you're staying camped out for the weekend. It's a lot of fun to use and I've been looking for any excuse I can to play with it.
See cooking steaks, boiling water, how long things take to charge, and more right here. LINKS
When Is a Good Time to Use the BioLite?
It will give you endless energy when you are in a place with wood, lots of resources to burn. I normally use solar but if you're in a rainy or cloudy location, this is a great alternative as long as you have biomass to burn.
Hunting Cabins
Wooded locations are ideal for using this device. You can always charge your device. If you don't like having your phone with you while camping, I think it's still great to use in an emergency. Being able to charge your cellphone as many times as you want could be valuable. Let's also consider the usefulness of charging your usb headlamps, flashlights, GPS, walkie talkies, camera gear, and other USB rechargeable devices. Just by having a fire going, you can charge your devices without having to take extra batteries. It may take some time, but it will eventually charge them.
In the Car
This is nice to have in the back of your car for emergencies. Use it to boil snow, boil water, or use the kettle pot for cooking. It's a multipurpose kit, which is very handy. The thermogenerator fits inside the burn chamber, the burn chamber fits inside of the kettle pot, the lid goes on top of that, creating a contained unit that fits conveniently inside the stuff sack. It could be a very useful survival tool.
On Your Snowmobile
This could be a useful tool between runs, or a convenient way to charge your devices while taking a break. Not only can it keep you warm, but it would probably burn wet wood easily because the swirling air makes the fire hotter, so it will burn what you want once it gets going. It comes with little firestarter kits, but I haven't really needed them.
Survival
This device is smokeless, so it's very discreet for survival purposes. It's convenient to keep in your vehicle, in your cabin, or in your RV for charging any device in almost any setting as long as you have biomass to burn. Overall, I would recommend the BioLite 2 for both camping, survival, and fun! You can buy the BioLite Campstove 2 using this LINK.
Thanks for reading and as always, Happy Camping!
---