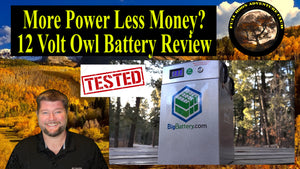 Afordable LifePO4 lithium battery? Bigbattery.com Owl Battery Review and Test
Almost double the power for the same price? How is this even possible you may ask. Well, let's find out if these LiFEPo4 hold up to testing. 
Get 10% off the OWL battery with this affiliate link. https://bigbattery.com/products/12v-owl-lifepo4-170ah-2-176kwh/?ref=80
Links For Full Moon Adventure Club
Instagram https://www.instagram.com/fullmoonadv...
Twitter      https://twitter.com/fmadventureclub
Facebook   https://www.facebook.com/Fullmoonadve...
Amazon Affiliate Link    https://amzn.to/2YMmnQF
Website     https://fullmoonadventureclub.com 
Support Us On Patreon https://www.patreon.com/FullMoonAdven…
---