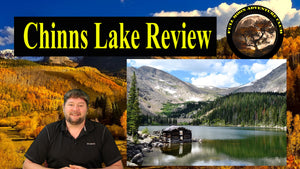 Chinns Lake Review Idaho Springs CO
Chinns Lake near Idaho Springs in Colorado is a stunningly beautiful, high-altitude lake. Located just miles from St. Mary's Glacier, this alpine lake is perfect for off-roading, fishing, and tent camping.
Off-Road Vehicle Required
This is not a spot for RVs. A high clearance 4x4 is a must for the tight, rocky road leading to the lake. Dispersed car and tent camping is available around the lake at pre-established sites.
Altitude Sickness
This is a high altitude spot, over 11,000 ft. If you are coming from a lower elevation you may feel some altitude sickness, such as dizziness, lightheadedness, or nausea. The air is thin and you should take it easy for the first day.
Weather
It's also important to note that this road is not maintained and is mainly for summer use. We filmed this footage in June of this year and still saw snow in heavily shaded areas. Ultimately, we found a spot near the lake without much snow and some dry ground for our tents. Within a few minutes of being set up we received some light snowfall but it soon passed and the weather was beautiful and calm.
Gear
There are also small streams leading on the outskirts of the lakes. Though the area is remarkably beautiful, one should note that swimming is not advisable as the water is frigid. Further, the nightly temperatures are quite low so you will need to bring warm clothes and adequate camping gear. Bug spray will also be a vital component of your trip as the mosquitoes are everywhere. You will need to bring your own firewood as the area has very few downed trees.
Other Considerations
You can fish the lakes, though the fish are typically quite small. The area is fairly light use with fewer than twelve camp sites.
Most importantly, I chose to share this campsite because I enjoy it and I want you to enjoy it. To keep this area open and accessible for years to come, follow these guidelines: be respectful, bring your own wood, leave no trace, and do your part to maintain the stunning beauty of Chinn's Lake.
---